Global Audience! India News!!
EDITORIAL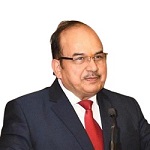 Mr. Deepak Jain
(Director-General)
Editorial Team
Editor -In-Chief - Mr. Hitender Mehta
Editor- Mr. Shailendra Vyas
Executive Editor- Mr. Harsh Dutt


Member of Editorial Board
Mr. Uditendu Verma
Ms. Money Chaturvedi
Mr. Sanjeev Arora
Mr. Rishabh

FII ACTIVITIES
Past events (October)
Talk with an expert- education vs career in India - Thursday 8th October
Webinar- Impact of Art and spiritualism in the industrial world- 15th October
Sarswati civilization- October 19th
Media ethics and freedom of speech-22nd October
MSME special- 29th October
Bringing POSTIVE NEWS From India To You Every Month
Greetings
Festival in November 2020
Deepawali- 14th November, Bhai Dooj - 16th November, Chatt Pooja - 20th November
FII newsletter being circulated in more than 145 Countries in the world.
To Advertise on this newsletter contact info@fii.org.in
+91-124-4013337, +9198100 17267